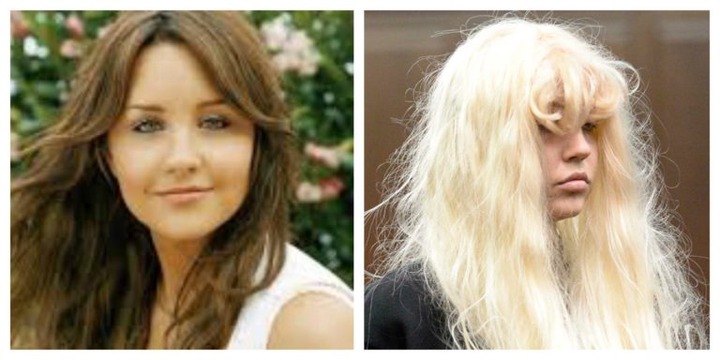 Being rich, successful and famous is always a huge responsibility, and there are few people who are strong enough to carry the burden of fame, especially if they become super stars out of nothing. No wonder it is especially hard for little children, who usually become famous in one day and lose the opportunity to have a normal childhood, which eventually makes them not capable of living normal lives.
Check the list of your favorite child star you used to be delighted with and you will probably realise they are not that happy you were sure they would become.
1. Macaulay Culkin
If you think about how successful a child can get his name will probably be the first one to come to your mind. After fantastic success of Home Alone Macaulay Culkin became the highest paid actor in Hollywood. The role in Home Alone brought him worldwide fame and only $100 000 which was ridiculous as the movie's gross was $500 million. Outraged by such injustice Macaulay's father decided to become his son's producer to represent his interests. In fact he wa worried more about Macaulay's earning (and the more zeros there were the better) rather than his career.
In his pursuit of money he stopped paying attention to the quality of scripts offered. Macaulay's every new project was worse and worse, his career was close to disaster. His parents got divorced, his father started drinking and his mother, after a long struggle for her son – or rather his money – completely lost her mind. Is there anything that can be even worse? There is. This sequence of failures was followed by a period of drug addiction (he was even arrested and jailed for possession of marijuana), painful break up with his girlfriend Mila Kunis, relationship with a porn star and, rumor has it, a suicide attempt. These days Macaulay is performing with the cover band "The Pizza" and it does not look like he is going to get back to his acting career that made him so famous.
2. Edward Furlong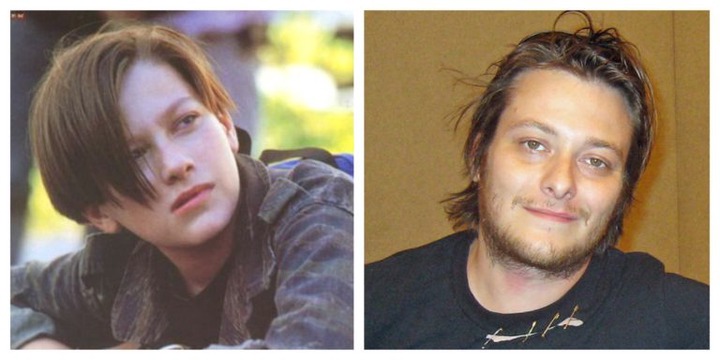 Some people believe that Edward Furlong's only outstanding role was that of John Connor in Terminator 2: Judgment Day. However, the Terminator was followed by a number of projects a little bit less prominent but very well accepted by American audience and critics, where he acted along with Meryl Streep, Jeff Bridges and Tim Roth. He is also known for his astounding performance in American History X with Edward Norton.
And that unfortunately was the point after which his career started going downhill. Hard drugs, alcohol and problems with the law left his career no chance. He was arrested numerous times for domestic violence: first his wife, then every girl he started dating was literally forced to file a restraining order against Edward, which he repeatedly violated. In 2013, to avoid prison sentence he was forced to go to rehab.
3. Lindsay Lohan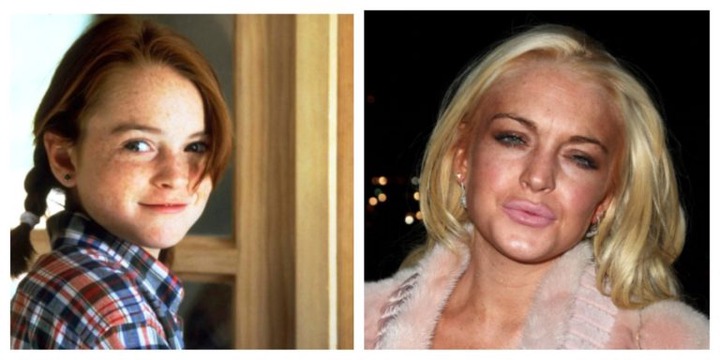 At the age of 3 Lindsey was already working at a modelling agency advertising all kinds off stuff from children's clothing to pizza. At the age of 10 she got her first part in a sitcom, and in 1998 the role of twins in The Parent Trap made her famous worldwide. Then there were Mean Girls, Freaky Friday and a couple of music albums she recorded trying to prove the world that she was talented in everything. Looked like great future was awaiting her and the whole world was at her feet. Yet we now know her for some other talents she has been so eager to share with us lately.
Lindsay Lohan
At first she was caught drunk in a nightclub, then she was caught again, then it became her usual appearance in public. Walt Disney team were the first ones to raise the alarm: improper behavior of their young actress could be very harmful to their image. 2006 was a hard year for Lindsay: arrested for driving under the influence of alcohol, forced to attend Anonymous Alcoholics meetings, arrested for possession for cocaine and for driving without license, 30 days rehab. Next year was not easier for her, neither was any of the years to come. It became really hard to follow all her arrests and rehabs, so even her craziest fans started losing interest. These days Lindsay is trying to get back on track, but even if she succeeds in our memory and in hollywood history she will always remain as a crazy young girl who was too weak to bear the burden of fame.
4. Drew Barrymore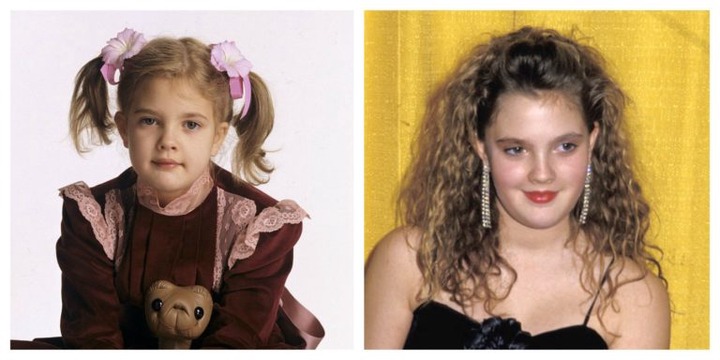 Drew Barrymore started her career when she was not even 1. Her first TV experience was a role in dog food commercial at the age of 11 months, and when she was 5 she debuted in Altered States. A year later a part in Spielberg's ET made her the most famous and most successful child actress of that time. Unlike her fortuneless colleagues who broke under the pressure of fame and money Drew was almost destroyed by her own parents. Her father John Barrymore was an alcoholic, and after he left the family her mother started using little famous Drew to be let into New York's fanciest nightclubs, which were hardly the best places to raise a child.
Drew's next records were not exactly related to acting: she started smoking at the age of 9, she already drank heavily when she was 11 and started doing cocaine at the age of 13. At that time no one would ever believe she would get out of it. But Drew somehow managed to find balance in her life again. When she was 14 she entered rehab, a year later she made her mother officially lose custody of her, moved to her own apartment and started living her own life. After a couple of scandalous nude appearances on the covers of magazines like Playboy she eventually got to normal acting career, and though she still drinks from time to time she can definitely be called an extremely successful actress of nowadays.
5.Amanda Bynes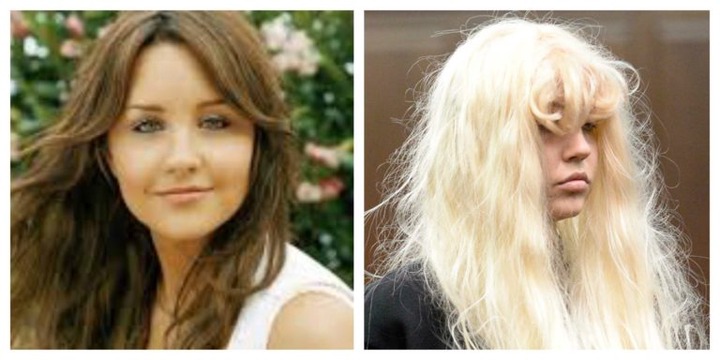 The star of teenage comedy Amanda Bynes is not associated with anything funny anymore. Known for starring in Nickelodeon series All That and The Amanda Show, and for a couple of outstanding roles in What a Girl Wants, She's the Man, Hairspray, Sydney White and Easy A she officially retired from acting career in 2011, though she could hardly be seen in screen long before that.The first problems with alcohol and drugs arose in 2009, and after that things started getting really weird with Amanda. In 2012 she got in some pretty dangerous car accidents. After another crash she was at fault in as she was driving under the influence of alcohol she just left the scene and a couple of days letter wrote a letter to … Barack Obama praying she was not guilty.
Amanda Bynes
Yet it was not Amanda's only inadequate act: spending the whole day in a fitting room and making weird noises from there, appearing to court (after she was arrested for drunk driving) in an enormous wig, attempt to set her neighbours' house on fire, assault upon her fan, a couple of thefts, a number of car accidents – and it was always the consequence of drugs. Another bright episode of Amanda's biography is the conflict with her father: first she accused him of sexual harassment, later she withdrew a charge telling it was a microchip in her head forcing her make up those accusations. No wonder she is a frequent guest of all the rehabs, though modern medicine does not seem to be capable of fighting the consequences of Amanda's love for hard drugs.
6. Haley Joel Osment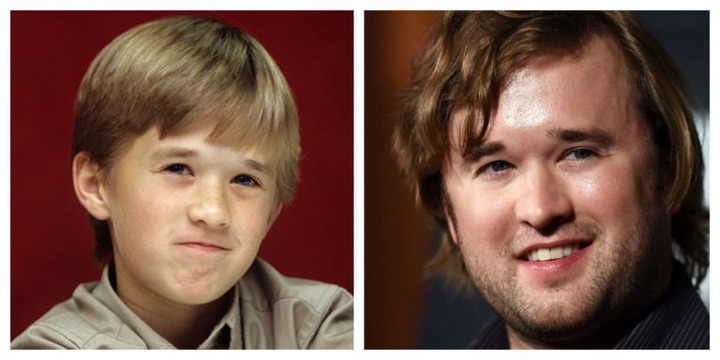 Haley Joel Osment was born on April 10, 1988 in a family of an actor and a teacher. His career started when he was four: he was noticed by a talent scout while visiting a new Ikea store with his mother. Haley's first audition made him the face of Pizza Hut, and very soon he was noticed by Robert Zemeckis, who offered him a part in Forrest Gump..
Haley was also auditioned for a role of Anakin Skywalker in Star Wars, Episode One, but he did not get the role. After the release of The Sixth Sense Haley woke up famous. But his stunning career was destroyed pretty soon: after a car accident in 2006 Haley was arrested for driving under the influence of alcohol and possession of drugs. He was sentenced to 3 year of probation and attending Anonymous Alcoholics meetings